Thank you to our sponsors
Our Mission
Our mission is the development and promotion of the striped bass fishery of Raystown Lake in cooperation with the Pennsylvania Fish Commission and the United States Army Corps of Engineers.
Learn More
Backwoods Pulled Pork Fundraiser
Sept 24th - Pick up meals from 1pm to 3pm at the concession trailer. The proceeds will go to put more Stripers in Raystown Lake.
Oct 1st - Fish for a Cure Cancer Tournament
The Pennsylvania Striped Bass association is holding a 1 day cancer tournament on Sunday, October 1st at Aitch. Sign up is Sept 30th from 6-8pm at Aitch.
A New First for Stripers!
Additional info and photos can be found on the STOCKING page.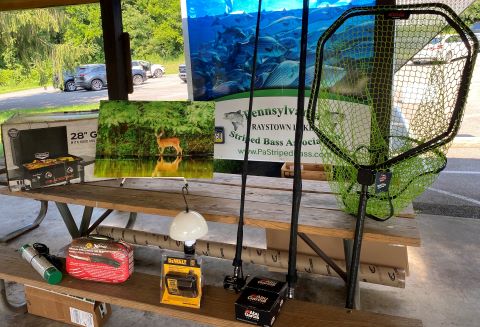 Yellow Ticket Winners
1. 28"Blackstone Griddle won by Nate Paterson
2. 2 Catch the fever Striper Rods w/ Abu Garcia 6500 Pro Rockets (Donated by Kat Reaper Outdoors) won by Zach Boyd
3. Photographic print of a fawn by the water (Taken by Frank Pawuk @ Raystown Lake) won by Brian O'Farrell
4. LED Rechargeable Light w/battery & Charger won by Andrew Price
5. $100.00 (Donated By: Jim & Diane Tucker) won by Katrina Patchan
6. 17 HMR Rifle won by Jamie Osborne
7. Rechargeable Filet Knife won by Josh Tucker
8. Green Blob Fishing Light 15000 Lumens won by Damian George
9. Landing Net ( Donated by Kat Reaper Outdoors) won by Andy Weaver
10. $100.00 won by Bill Shaw